Footsteps

「あしあと」 - Opposite
Series name
Saiyuki Reload
Manga equivalent
Saiyuki Reload Act. 3.5
Air date
2004-01-22
Directed by
Kunitoshi Okajima


Animation Supervisor: Masateru Tanaka

Screenplay by
Hideko Ikeda
Story board by
Hiroyuki Shimazu
previous
15
next
17
Footsteps is the Episode 15 of Saiyuki Reload.
Synopsis
Goku won't come out? Oh yeah, he was apparently afraid of snow. He was locked away alone in the mountains for 500 years. And on the days that it snowed, there was only the absolute silence. And his completely soltitude. Footprints were left in the pure white snow.
Summary
Set during the period between Gonou/Hakkai's rebirth and the Journey to the West, we see Sanzo and young Goku in Gojyo's house. Hakkai was asking them if they can stay over dinner and have a sukiyaki ---A Japanese dish, of the soup or stew type, prepared and served in a Japanese Hot Pot--- which is perfect to eat in winter. Goku never heard of sukiyaki as was drooling after while hearing the ingredients. He's asking Sanzo if they could eat with them but Sanzo refused since they need to go. In the outside of the window, it began to snow.
work in progress
Gallery
Urasai: Knitting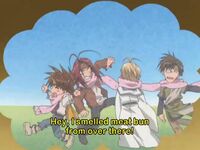 Hakkai was knitting scarf for everyone since it's getting cold, then Goku asked "Why it's long?". Because Hakkai thought of it that the four of them could all share one scarf. Gojyo and Sanzo imagined it, Goku agreed with it, but the other two didn't for it's not a good idea.
Ad blocker interference detected!
Wikia is a free-to-use site that makes money from advertising. We have a modified experience for viewers using ad blockers

Wikia is not accessible if you've made further modifications. Remove the custom ad blocker rule(s) and the page will load as expected.