Fight

「戦闘」 - Don't Cry
Series name
Saiyuki Reload
Manga equivalent
Saiyuki Vol. 8 Ch 46-47
Air date
2004-02-26
Directed by
Kunitoshi Okajima


Animation Supervisor: Kensuke Aiba

Screenplay by
Miya Asakawa
Story board by
Kunitoshi Okajima
previous
20
next
22
Fight is the Episode 21 of Saiyuki Reload and Chapter 46-47 of Saiyuki Manga.
Synopsis
After the barrier, it's a damn steep mountain path. And at the end of that is a flight of stairs that goes on forever?! Gojyo sure is causing a lot of trouble. The rest of the Sanzo party will swear to kill him after the find him. Are you ready, hellions? The Sanzo party doesn't care if the enemy is a god or whatever, but they are sure that they will blow him away.
Summary
under construction
Gallery
Urasai: Breakable Things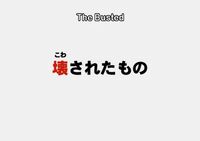 Gojyo and Goku were playing Sanzo's banishing gun, when they accidentally broke it. Goku decided to replace it with a toygun.
Ad blocker interference detected!
Wikia is a free-to-use site that makes money from advertising. We have a modified experience for viewers using ad blockers

Wikia is not accessible if you've made further modifications. Remove the custom ad blocker rule(s) and the page will load as expected.