The Broken

「砕かれたもの」 - Pain
Series name
Saiyuki Reload
Manga equivalent
Saiyuki Vol. 8 Ch 48-49
Air date
2004-03-04
Directed by
Chiaki Kon


Animation Supervisor: Takako Oonishi

Screenplay by
Nobuaki Yamaguchi
Story board by
Chiaki Kon
previous
21
next
23
The Broken is the Episode 22 of Saiyuki Reload and Chapter 48-49 Saiyuki Manga.
Synopsis
The Sanzo party challenge Kami-sama to a real fight, but he continues to flutter about, evading them. What awaits to the Sanzo party at the end of the battle? Just where are they supposed to go from there?
Summary
Underconstruction
Gallery
Urasai: Brushing Teeth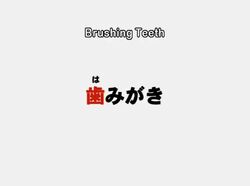 The Sanzo party were brushing their teeth, when Goku suddenly swallowed it. 
Ad blocker interference detected!
Wikia is a free-to-use site that makes money from advertising. We have a modified experience for viewers using ad blockers

Wikia is not accessible if you've made further modifications. Remove the custom ad blocker rule(s) and the page will load as expected.