Rematch

「再戦」- Go Ahead
Series name
Saiyuki Reload
Manga equivalent
Saiyuki Vol. 9 Ch 52-53
Air date
2004-03-18
Directed by
Akira Iwanaga


Animation Supervisor: Nahomi Miyata

Screenplay by
Nobuaki Yamaguchi
Story board by
Akira Iwanaga
previous
23
next
25
Rematch is the Episode 24 of Saiyuki Reload and Chapter 52-53 of Saiyuki Manga.
Synopsis
Collaborative strategy, huh? It sounds kind of hard, but still the one thing they get is that they have to defeat Kami-sama. This time, the Sanzo party won't lose this time! They won't lose ever again!
Summary
under construction
Gallery
Urasai: The Last Episode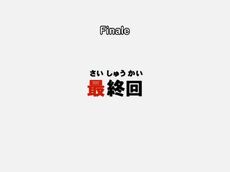 Hakkai was packing their things as he remembered that their segment (Saiyuki Reload) will be over. Knowing that it will be the end makes them feel a little sad. The four of them reminisces their memories (Previous Urasai clips) until they remembered Sanzo wearing a reindeer mascot, realizing that not all are so much sad.
Ad blocker interference detected!
Wikia is a free-to-use site that makes money from advertising. We have a modified experience for viewers using ad blockers

Wikia is not accessible if you've made further modifications. Remove the custom ad blocker rule(s) and the page will load as expected.