MangaManga | AnimeAnime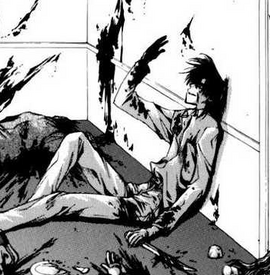 Blood of a Thousand Youkai 【千の妖怪の血 Sen no Youkai no Chi】 (Sai. Vol 4 - Continuous)
☆ A popular belief in Shangri-la that says "if one bathes in the blood of a thousand youkai, one will become a youkai," but like the belief that "devouring the flesh of a virtuous monk will make one undying and un-aging," it's supposedly just a rumor. It is also speculated that the reason Hakkai actually changed into a youkai might have been because he had accumulated so much negative pathos within his body. It's not that Chin Yisou was the thousandth youkai, nor is there any need to worry that Sanzo might later turn into a youkai (laughs).
Known characters that turned into Youkai
Ad blocker interference detected!
Wikia is a free-to-use site that makes money from advertising. We have a modified experience for viewers using ad blockers

Wikia is not accessible if you've made further modifications. Remove the custom ad blocker rule(s) and the page will load as expected.