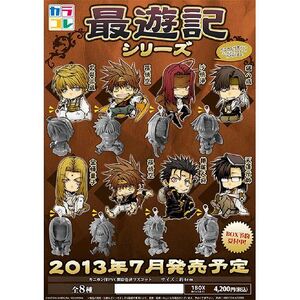 "カラコレ 最遊記 シリーズ BOX" 
is a product manufactured by Movic. The complete set consists of 8 PVC's with individual straps, each in the form of a Saiyuki or Saiyuki Gaiden protagonist. They were made available on July 31, 2013, and the whole set costs 4,200 円.
Product Information
Height: approx 4cm.

Copyright Shinobu Takayama/ICHIJINSHA

Item Size/Weight : 16.8 x 9.5 x 6.8 cm / 196g[1]
Contents
Cite error: <ref> tags exist, but no <references/> tag was found
Ad blocker interference detected!
Wikia is a free-to-use site that makes money from advertising. We have a modified experience for viewers using ad blockers

Wikia is not accessible if you've made further modifications. Remove the custom ad blocker rule(s) and the page will load as expected.