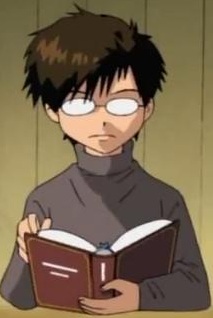 Linchei was one of the boys that Shaohei watched over and because of his similarities to the young Gonou, she asked Hakkai to help her with him. Linchei only appeared the the anime Saiyuki Gensoumaden Episode 37.
Appearance
Story
Like Gonou back in times, he doesn't believe in God either and he doesn't smile. His physical appearance is very similar to Hakkai's childhood days and also, Linchei hobby is to read books like Hakkai back in times. He's also very arrogant and doesn't want to be bother. Like when Hakkai was talking to him, Linchei showed rudeness as he said that he doesn't believe in what the nuns are saying. Probably after the death of his parents, he only wants someone to look up on him and understand his feelings. He wants to destroy the world with his selfish attitude, when Hakkai was talking to him frankly again in the middle of the snow. He destroyed all the goddesses. Later on, he got scared when the youkais appeared after destroying the goddesses.
Later on, Linchei he was defended by Shaohei when a youkai attempted to kill him until Linchei seems to realize something. The two were later saved by the rest of the Sanzo party. In the end of the episode, Hakkai told Shaohei that someday Linchei will smile. In the room where Linchei was, he was smiling and saying "Thank you" to Hakkai.
Trivia
Linche first appeared reading a book entitled "Gensomaden Saiyuki". Gonou is seen reading the same book during the flashback.
Ad blocker interference detected!
Wikia is a free-to-use site that makes money from advertising. We have a modified experience for viewers using ad blockers

Wikia is not accessible if you've made further modifications. Remove the custom ad blocker rule(s) and the page will load as expected.