Mifa
Profile
Kanji
【美葉】
Race
Human
Gender
Female
Hair
Pink/Magenta
Eye Color
Blue
Relatives
Aunt
Status
Alive
Appearance
Manga Debut
Sai. Vol 5, extra
Anime Debut
Saiyuki Premium OVA
Voices/Actors
Seiyuu
Takano Shiho (高野志穂)
Abilities
Skills
Mechanic
Mifa (美葉) along with her aunt are characters in Saiyuki Premium OVA that Sanzo party met in the village that they stopped for the night. She is also one of the heroine of the OVA.
Personality
Appearance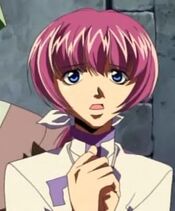 Mifa appears to be a young teenage girl with a pink or magenta
not so short
hair in ponytail. She has an angel blue eyes and has an innocent face.
work in progress...
Background
Mifa and her aunt are waitresses from the village where the Sanzo Party stopped.
Work in progress...
Relationships
Aunt
-
Hakuryuu -
Gallery
Ad blocker interference detected!
Wikia is a free-to-use site that makes money from advertising. We have a modified experience for viewers using ad blockers

Wikia is not accessible if you've made further modifications. Remove the custom ad blocker rule(s) and the page will load as expected.