Rikuou (陸央) is a member of First Regiment of the Western Army of Heaven. He later takes place as a leader to encourage his fellow unit that they will finish their last mission that was order by Tenpou.
Personality
Appearance
At first, Rikuou was shown to have red hair but it was later change into his original hair color blond. He wears his military uniform and like most gods he has violet eyes. Like his superior, Kenren, he has a sarcastic mouth, and a big, childlike smile.
Backstory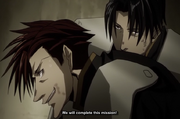 Relationships
Yuutetsu -
Jyouei -
Gallery
Ad blocker interference detected!
Wikia is a free-to-use site that makes money from advertising. We have a modified experience for viewers using ad blockers

Wikia is not accessible if you've made further modifications. Remove the custom ad blocker rule(s) and the page will load as expected.