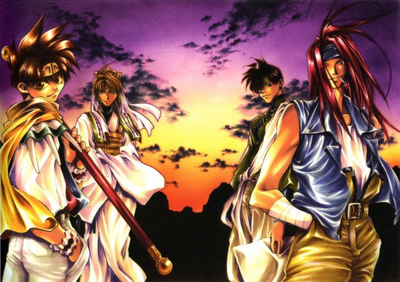 Saiyuki was the first manga installment of Saiyuki serialized in G-Fantasy from 1996 to 2002.
Saiyuki consists of nine volumes. The covers of each volume feature each of the characters in turn. The rotation starts with Genjo Sanzo on the first cover, Son Goku on the second, Sha Gojyo on the third, and Cho Hakkai on the fourth. The cycle is repeated again and on the ninth volume all four of them are featured on the cover.
The first English translation was published in graphic novel form in March 2004 by Tokyopop.
最遊記 (Saiyuki) translated as: "Journey to the Extreme" is a pun of 西遊記 (also pronounced Saiyuki) which translates as: "Journey to the West".
Synopsis
Renegade priest Genjo Sanzo is assigned by the Sanbutsushin the mission of stopping the Minus Wave , a mystical plague that has afflicted the youkai of Shangri-La with madness. He is ordered to assemble a team of his old companions, Son Goku , Cho Hakkai , and Sha Gojyo , all of whom are part youkai, to accompany him on his quest. Initially he feared that they might be susceptible to the plague as well, but after watching them in action, Sanzo is reminded that they are, after all, part human, and their wills are strong. His doubts dispelled, they begin their journey to the West.
List of Manga Volumes and Chapters
Information

Release Date:
October 01 ,1997 (Square Enix)


October 01, 2002 (ZeroSum)

ISBN:
4-87025-592-8
Description:
It was a time of chaos, when Heaven and Earth were as one, and humans and demons - the youkai - lived together in peace. The foundations of civilization and religion were raised in the land of Togenkyo, the paradise known as Shangri-La. But now a great evil threatens this harmony. Someone is trying to resurrect the youkai lord Gyumaoh and this forbidden practice as created a Minus Wave of negative energy that is spreading across Shanri-La. Hope lies in four legendary heroes: Genjyo Sanzo, Son Goku, Sha Gojyo and Cho Hakkai.
Information

Release Date:
April 1, 1998
ISBN:
4-87025-287-2
Description:
Continuing their journey west and leaving a trail of dead Youkai in their wake, Genjyo Sanzo and company come upon a young woman who has quite a tale to tell. She recounts the story of her long lost lover, a Youkai who succumbed to the madness. In spite of it all, she continues to wait faithfully for his return.
Volume 03

Chapters

Chapter 12 - Cleaning Beauty
Chapter 13 - Crimson
Chapter 14 - Drug and Booze
Chapter 15 - Charismatic
Chapter 16 - Rain
Chapter 17 - Shower of Bullets
Extra - Calling












Information

Release Date:
November 1, 1998
ISBN:
4-87025-406-9
Description:
It was a time of chaos, when Heaven and Earth were as one, and humans and demons - the youkai - lived together in peace. But now a great evil threatens this harmony. Sanzo is down and possibly out for the count as he tries to protect Goku from an old friend turned foe.In a fight, Goku's youkai power limiter shatters, sending Goku into a violent rampage.
Volume 04

Chapters

Chapter 18 - Revenge Tragedy
Chapter 19 - Misty
Chapter 20 - Wandering destiny
Chapter 21 - Dead
Chapter 22 - Alive
Chapter 23 - Survive












Information

Release Date:
April 1, 1999
ISBN:
4-87025-488-3
Description:
to be updated
Volume 05

Chapters

Chapter 24 - Be There (1)
Chapter 25 - Be There (2)
Chapter 26 - Be There (3)
Chapter 27 - Be There (4)
Chapter 28 - Sandstorm
Chapter 29 - Fatal Dose












Information

Release Date:
October 1, 1999
ISBN:
4-7575-0096-3
Description:
The story of how Sanzo, Goku, Gojyo and Hakkai originally met is revealed at last. Voilence drew the unlikely party close, but something far more powerful kept them together. Now with bonds formed in insecurity and despair, the group is trapped in an underground youkai den with a malicious female demon. Her interest lies with Sanzo, but her strength lies with her poison and her ability to make it linger.
Volume 06

Chapters

Chapter 30 - Selfish
Chapter 31 - Pride
Chapter 32 - Thicker Than Blood
Chapter 33 - Devastation
Chapter 34 - Always
Chapter 35 - Opposite
Chapter 36 - Wish












Information

Release Date:
April 1, 2000
ISBN:
4-7575-0219-2
Description:
With poison coursing through his veins, Sanzo's life dwindles as Goku and the others fight to discover a way out of their desert prison. Although Kougaiji offers a solution, there's a catch - Goku must first defeat him in combat! Goku's desperation grows as Sanzo's health rapidly fails, but there's no divine intervention if Goku loses control this time. Will Goku put Sanzo's life above everything...and everyone?
Volume 07

Chapters

Chapter 37 - Out of Gear
Chapter 38 - Branches
Chapter 39 - Critical Day
Chapter 40 - Blind Faith
Chapter 41 - Farewell















Information

Release Date:
September 1, 2000
ISBN:
4-7575-0318-0
Description:
"A set of twins catches our heroes by surprise, trapping Goku and Hakkai in a magical gourd. Sanzo and Gojyo set off on a hunt to find and free their friends. But when they finally track down the duo, not everything is what it appears to be..."
Volume 08

Chapters

Chapter 43 - Be Lacking
Chapter 44 - Rabbits
Chapter 45 - Chase
Chapter 46 - Don't Cry
Chapter 47 - Recreation
Chapter 48 - Lose
Chapter 49 - Take To Flight












Information

Release Date:
August 01, 2001
ISBN:
4-7575-0502-7
Description:
Sanzo, Goku and Hakkai are out to find "God"--and Gojyo. At the same time, Gojyo climbs a seemingly endless stairway to heaven and is assailed by a very maternal monster. The gang finally catches up to Gojyo, and as luck would have it, they've also found "God." But this dangerous deity is no ordinary opponent, and the quartet must get serious before they get crushed.
Volume 09

Chapters

Chapter 50 - Play Go
Chapter 51 - Dawn
Chapter 52 - Go Ahead
Chapter 53 - Bet
Chapter 54 - Nothing To Give
Chapter 55 - Falling. Rising.












Information

Release Date:
February 01, 2002
ISBN:
4-7575-0634-1
Description:
Defeated and crestfallen after losing round one versus "God," Sanzo and his crew turn to the only thing that can help boost their spiritsâ€"a game of mahjong. The fierce competition gets everyone back in the mood, and the gang decides to take another crack at the arrogant wannabe deity. This time, Goku and company are ready for a second helping of battle...and they've had enough of just playing around.