Ad blocker interference detected!
Wikia is a free-to-use site that makes money from advertising. We have a modified experience for viewers using ad blockers

Wikia is not accessible if you've made further modifications. Remove the custom ad blocker rule(s) and the page will load as expected.
Saiyuki Gaiden (最遊記外伝) is the second manga published during 1999 and ended in 2009. It was later adapted into OVA.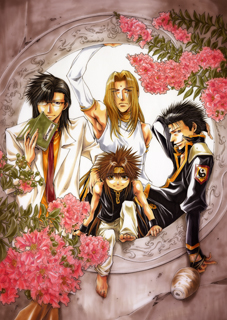 500 years before the story of Saiyuki, a heretic child with golden eyes is brought into Heaven. He is given into the reluctant care of a minor deity named Konzen, the nephew of the Merciful Goddess Kanzeon Bosatsu. Konzen eventually gives the child the name "Goku". Goku becomes friends with two other minor gods, Marshal Tenpou and General Kenren of the Western Army of Heaven. He also meets a strange little boy who seems to be his own age, the War Prince Nataku. Although Goku is happy in his new home, Heaven is not kind to heretics. There are those who would use Nataku and Goku as tools in an attempt to seize the throne of Heaven, and Konzen, Tenpou, and Kenren may not be able to save them.
List of Manga Volumes and Chapters
Edit
Volume 01

Chapters

Prologue
Story 01
Story 02
story 03
Story 04
Story 05
Story 06
Story 07
Story 08









Information

Release Date:
December 23, 2000 (Square-Enix)


December 28, 2005 (ZERO-SUM)

ISBN:
4-7575-0373-3 (ZeroSum)
Description:
to be updated
Volume 02

Chapters

Story 09
Story 10
Story 11
story 12
Story 13
Story 14
Story 15
Omake









Information

Release Date:
December 27, 2005
ISBN:
4-7580-5204-2
Description:
to be updated
Volume 03

Chapters

Story 16
Story 17
Story 18
story 19
Story 20
Story 21
Story 22
Story 23
Story 24
Story 25
Story 26
Story 27



Information

Release Date:
July 25, 2007
ISBN:
978-4-7580-5299-3
Description:
to be updated
Volume 04

Chapters

Story 28
Story 29
Story 30
story 31
Story 32
Story 33
Story 34
Extra - Gaiden Memoirs









Information

Release Date:
July 25, 2009
ISBN:
4-7580-5427-4
Description:
to be updated