Saiyuki Reload Blast The Legend of the Western Journey into Danger was being published at Monthly Zero Sum Comics. The first chapter was publisehd on Zero Sum's February 2010 issue. The manga is currently on hiatus pending Kazuya Minekura's recovery from surgery and illness.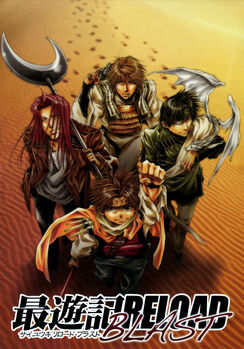 Synopsis
Preview
from last Reload chapter...
At last, the Sanzo Ikkou have arrived in India. In this foreign land, where the anomaly's influence runs rampant, their battles only heighten in their violence.
And also awaiting them is their tragic fate from 500 years ago—
What will they find at the end of their long and treacherous journey?[1]
Manga
Saiyuki Reload Blast

Volume 1

Chapters

Titles

shot 1 

Squall

shot 2 

Prologue

shot 3

Sky Burial

shot 4

"Kouten" [1]

shot 2.5

Omake 

Bonus Material

Saiyuki - Dice of Destiny
Volume 2

Chapters

Titles

shot 4

Kouten [2]

shot 4

Kouten [3]

shot 4.5

Omake 

shot 4

Kouten [4]

Special Anniversary Issue

Saiyuki Hotsprings 

shot 4
Kouten [5] - April 2013 pt 1 /February 2014 pt 2
shot  4
Kouten [6] - June 2014 pt 1/July 2014 pt 2?
Volume 3

Chapters

Titles

 

shot 4

Kouten [7] - October 2014

shot 4

Kouten [7] pt 2 - December 2014
References