Series Information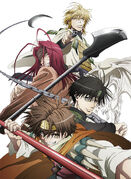 At last, the Sanzo Party has arrived in India. In this foreign land, where the anomaly's influence runs rampant, their battles only heighten in their violence.
And also awaiting them is their tragic fate from 500 years ago—

What will they find at the end of their long and treacherous journey[1]
Episodes
Episode #
Title
Urasai
In Manga
Air Date
01
Squall
The Festival of

the Weaver

Saiyuki Reload Blast

Vol. 1, Chapter 1

July 5, 2017
02
Cloud Mirror
Water Slider

Split the Watermelon

Filler[2]
July 12, 2017
03
Sky Burial
July 19, 2017
04
05
06
Gallery
References
Ad blocker interference detected!
Wikia is a free-to-use site that makes money from advertising. We have a modified experience for viewers using ad blockers

Wikia is not accessible if you've made further modifications. Remove the custom ad blocker rule(s) and the page will load as expected.