Sho'u
Profile
Kanji
【商】
Titles
Master/Lord Sho'u
Race
God
Gender
Male
Status
Deceased
Appearance
Manga Debut
Saiyuki Gaiden
Anime Debut
Saiyuki Gaiden OVA Ep. 2
Voices/Actors
Abilities
Skills
Swordsmanship
Weapons
Katana
Sho'u (商) Dono Master Sho'u is character that was introduced in Saiyuki Gaiden manga and OVA. He is an ally of Li Touten. He killed the Heaven's Emperor and one of his men in order to blame the rebellions and the Seiten Taisei.
Backstory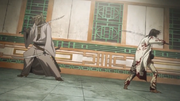 Underconstruction ... Whatever
Weapons and Abilities
Ad blocker interference detected!
Wikia is a free-to-use site that makes money from advertising. We have a modified experience for viewers using ad blockers

Wikia is not accessible if you've made further modifications. Remove the custom ad blocker rule(s) and the page will load as expected.