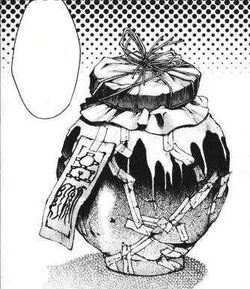 The Jar
(Sai R. Vol 08, Petite Burial)
☆ Is the Jar that was broken by Gojyo and Goku when they were messing around while cleaning up.
☆ The jar is the container of the treasures, Shakujo and Nyoibo. It was said that the jar harbored dark powers and so they had come under the protection of Keiun Temple so the wicked woudn't take advantage of them.
☆ The treasures will be automatically return in the jar if the owners will die.  
Ad blocker interference detected!
Wikia is a free-to-use site that makes money from advertising. We have a modified experience for viewers using ad blockers

Wikia is not accessible if you've made further modifications. Remove the custom ad blocker rule(s) and the page will load as expected.