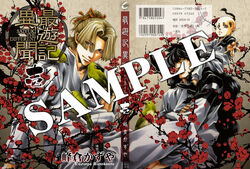 I haven't read it to be honest. But I guess this is my chance to read it since the manga will be going on hiatus so that Minekura-sensei will have time for Wild Adapter.
Though is it just me or there is really no announcement for Saiyuki Reload Blast? Is it going to be in hiatus as well? Oh man! It's already there! I am excited to see what will be going on!
Minekura-sensei is great in timing to continue Wild Adapter, and that means for Saiyuki Reload Blast next chapters will be a BLAST. XD I mean, Nataku is awake already. There is this youkai who was observing the Sanzo Party and there's a child who seems to be who knows Goku.
Well I hope more chapters sooner after Wild Adapter will be continue on October 2013.
Ad blocker interference detected!
Wikia is a free-to-use site that makes money from advertising. We have a modified experience for viewers using ad blockers

Wikia is not accessible if you've made further modifications. Remove the custom ad blocker rule(s) and the page will load as expected.