In case you/ or anyone is wondering what I am doing right now, I'm changing the current design of the wiki. Bit by bit, Im making the templates transform and I'm gonna change the main page soon (Dont ask how long its gonna take since Im just doing this in my free time).
And yeah all of you know that I am waiting for the implementation of Project Darwin, new look of wikia is not that bad. I am just making sure if the new look is implemented this wiki dont need to catch up, coz I'm trying it already bit by bit.
Any questions just or suggestions just visit me at my facebook page or message me here or my wall page. All my contact details are there already. Saiyukisama (talk) 17:47, September 17, 2013 (UTC)
Color theme
It come to my attention that the color theme of the wiki is too....childish .... So I made a decision to make it a little manly themed, afterall 52% of Zero Sum readers are still boys according to ComiPress (based on subscriptions).
At first I wanted blue, but blue is already the theme since 2008 (monobook - default) just change the color this year to yellow, so I went to some official sites of Saiyuki and notice black is consisitent, might as well use black.
Logo
Yeah , right I did what I did again to change the logo. I ask some people but I find it hard to upload their work right but then again because she did everything to help me/us. I just decide to include that work on the main page. Wikia cant absorb this image becoz of its size .... So this image will have to wait....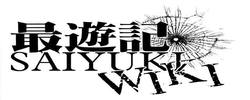 In the meantime I did my best again to create a logo, and its already uploaded. Welcome new logo... For those who dont know what our past logos look like its nice to have a look back using this
http://saiyuki.wikia.com/wiki/File:Wiki-wordmark.png
The current logo is the 9th upload and the 8th design this wiki is using.
Ad blocker interference detected!
Wikia is a free-to-use site that makes money from advertising. We have a modified experience for viewers using ad blockers

Wikia is not accessible if you've made further modifications. Remove the custom ad blocker rule(s) and the page will load as expected.